By David Jacobson, M.Sc., Temblor
Click here to protect yourself from natural disasters
At just past 8:30 a.m. local time, a M=5.7 (M=5.9 according to the Mexican Seismological Service) earthquake struck central Mexico, resulting in shaking felt across the country, including in Mexico City, Puebla, and Oaxaca. Fortunately, because this quake occurred in a remote region of Mexico, no damage or injuries have been reported. Nonetheless, some residents and workers in Mexico City evacuated buildings as the shaking began.
Mexico is one of the most seismically active countries on earth as it sits on three tectonic plates. In this part of Mexico, most of the seismicity is dominated by subduction zone quakes as the Cocos Plate subducts beneath the North American Plate. Based on the depth of today's quake (55 km) it could have either occurred within the subducting slab, using the contours of Franco et al. (EPS 2005), or within the overriding North American plate, using the contours of Hayes et al., 2012. However, we can say that it was not on the megathrust surface, both based on it's depth and the fact that it was an extensional event, rather than a compressional one.
While today's earthquake was not damaging in nature, last September, another large magnitude quake, not associated with the megathrust surface dealt heavy damage to Mexico City, and left 228 people dead. That event was also an extensional event, believed to be within the subducting slab, and associated with a steepening of the slab. However, it had a much greater magnitude (M=7.1).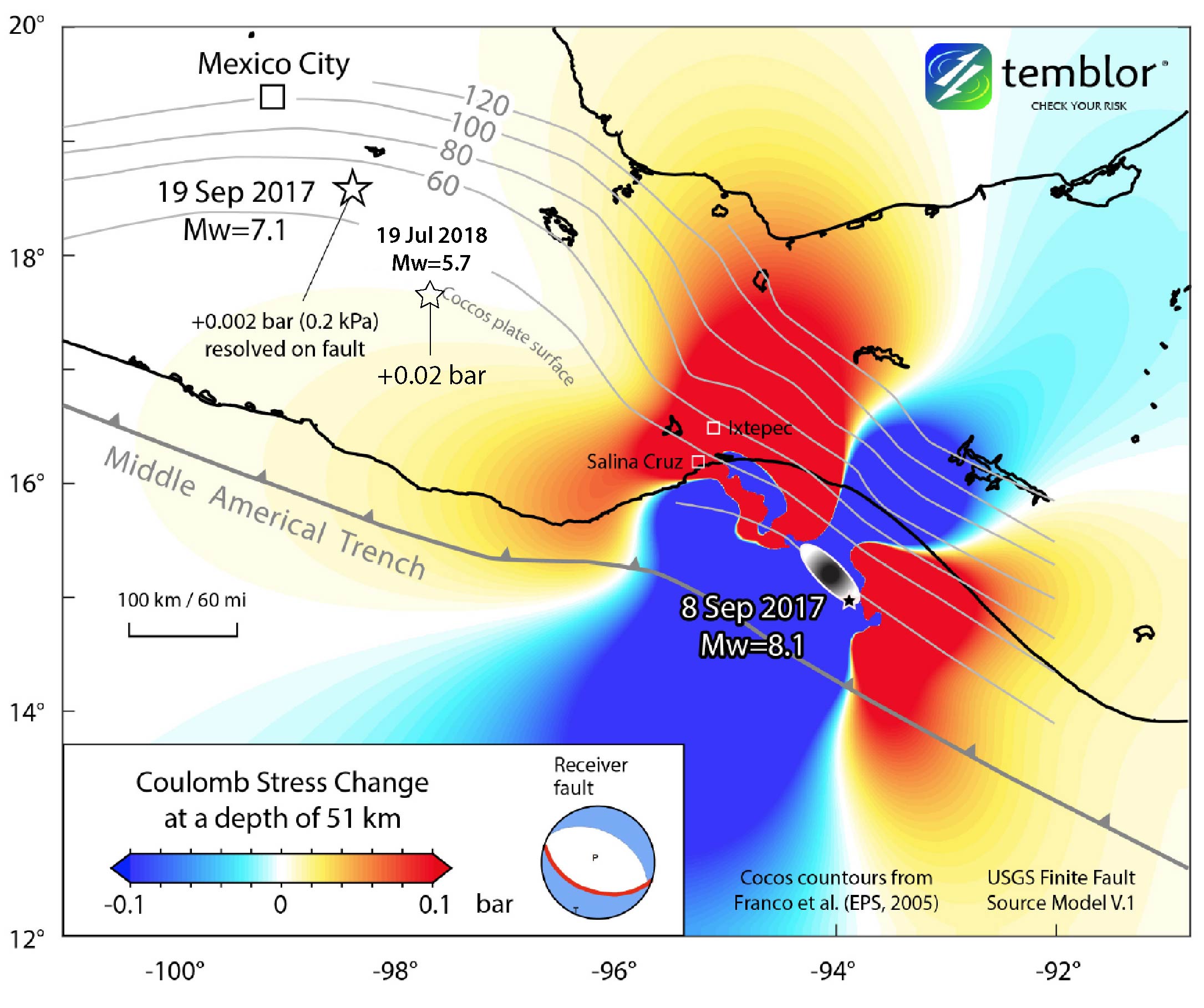 In the hours following the earthquake, there has only been one recorded aftershock, a M=3.7, 30 minutes after the mainshock. While this may seem small, in this part of Mexico, aftershocks are rare. This was also the case after the September Puebla quake where there were almost no recorded aftershocks.
Based on the Global Earthquake Activity Rate (GEAR) model, we can see if today's earthquake can be considered surprising. This model uses global strain rates and 40 years of seismicity to forecast the likely earthquake in your lifetime. From the figure below, one can see that in the location of today's event, the likely earthquake is a M=6.75+. Therefore, today's earthquake should not be viewed as a surprise, but rather a reminder of the region's seismicity.