Website: https://www.strongtie.com/
Phone: (800) 999-5099
About Us
For more than 60 years, Simpson Strong-Tie has focused on creating structural products that help people build safer and stronger homes and buildings. Considered a leader in structural systems research, testing and innovation, Simpson Strong-Tie works closely with industry professionals to provide code-listed, field-tested products and value-engineered solutions. Its structural products are recognized for helping structures resist high winds, hurricanes and seismic forces. The company's extensive product offering includes engineered structural connectors, fasteners, fastening systems, lateral-force resisting systems, anchors and products that repair, protect and strengthen concrete.
From product development and testing to training and engineering and field support, Simpson Strong-Tie is committed to helping customers succeed.
Our new foundation plates
The URFP universal retrofit foundation plate is the new, improved version of the UFP, offering increased load while maintaining the same adjustability during installation. Ideal where there is minimum vertical clearance, the URFP provides a retrofit method to secure the mudsill to the foundation. This new design allows installation flexibility when the mudsill is offset or inset from the foundation edge. With its combination of longitudinal embossments, stiffening darts and scalloped slotted holes, the URFP allows for a one-for-one replacement of 1/2″ or 5/8″ mudsill anchors as well as fixity to both the SDS screws and required concrete anchorage.
The next generation FRFP flat retrofit foundation plate connects the mudsill to the foundation and provides lateral load resistance. This new design allows the Designer to maintain the same prescriptive requirements when filling the original three holes, or as an alternate, fill the newly added two optional triangle holes and utilize increased loads and greater allowable spacing.
You can do your own seismic retrofit
Presenting our Lateral Systems
Little did we know when we introduced our first holdown in 1966 that our product innovations would lead us to solutions that can help hold together five-story buildings during an earthquake or allow builders to more easily retrofit structures and install larger window and door openings in homes. Our offering of lateral-force resisting systems, including Wood and Steel Strong-Wall® shearwalls, Strong Frame® moment frames and new Strong-Rod™ Systems, gives designers and engineers added design flexibility in wood-frame construction and the confidence that almost anything is possible.
Strong Frame® Moment Frames
No longer are moment frames time-intensive and labor-intensive to install. The Strong Frame special and ordinary moment frames by Simpson Strong-Tie are cost-effective alternatives to traditional, site-built moment frames.
Our moment frames offer the level of quality and innovation that has become synonymous with Simpson Strong-Tie. Our special moment frames feature Yield-Link® Structural Fuses that enable frames to be repaired after a seismic event by removing the yielded fuses and bolting on new ones. The frame can remain in the structure during repair. With 100% bolted connections, there is no need for welding, which reduces the risk of fire.
re-fabricated shearwalls not only represent an alternative to site-built walls, but also helped to improve the quality, consistency and performance of shearwalls in the field.
Simpson Strong-Tie introduces the latest product to the Strong-Wall product family. The holdowns installed on the WSW now provide front, back and side access, facilitating installation of the anchorage attachment in various framing conditions. The front access opening also allows for easy inspection of the connection to the anchor bolt. The connection from the top of the panel to the framing has also been updated. There are now two options, designed to accommodate different installer preferences. The new Strong-Wall Wood Shearwall (WSW) provides the installer the ability to field trim the shearwall for customized heights and rake walls.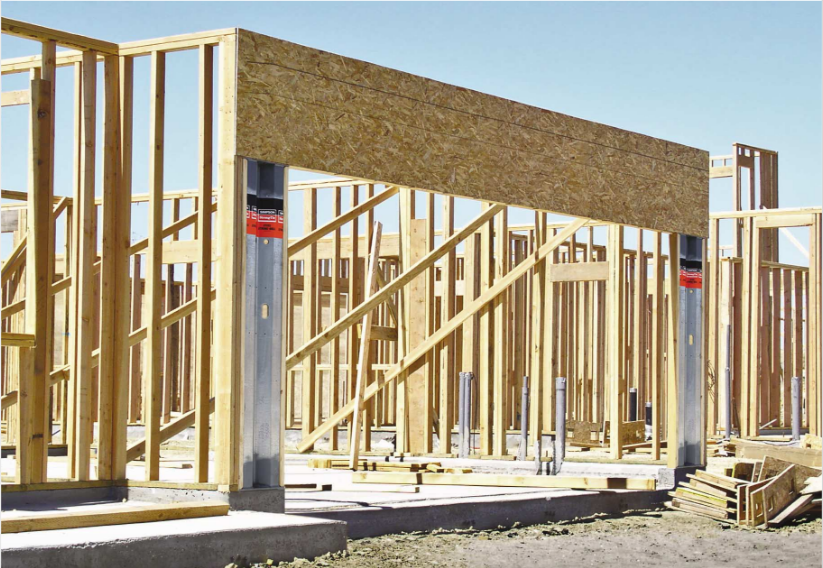 Strong-Rod™ Systems
Simpson Strong-Tie Strong-Rod Systems have become a popular continuous rod tiedown solution for light-frame, multi-story wood construction. Our Anchor Tiedown System for Shearwall Overturning Restraint and our Uplift Restraint System for Roofs address many of the design challenges specifically associated with multi-story buildings that must withstand seismic activity or wind events.
These challenges are complicated, and having a reliable, highly knowledgeable design partner can be critical to keeping projects on time and within budget. No structural connector and lateral systems manufacturer knows light-frame wood construction better than Simpson Strong-Tie, and we have what you need to design your building to resist seismic and wind loads. Code-listed components and systems that come with unmatched testing and design expertise are your formula for success.
Contact Us:
Phone: (800) 999-5099
Website: https://www.strongtie.com/