Italian Version: La recente eruzione dell'Etna ha probabilmente riattivato la faglia di Fiandac
Citation: Stallone, A., Diaferia G., 2018, Mt. Etna eruption likely reactivated Fiandaca Fault, Temblor, http://doi.org/10.32858/temblor.002
by Angela Stallone, Ph.D., and Giovanni Diaferia, Ph.D.
The "good giant," "Mom," "His Majesty." So, Sicilians call Mount Etna, one of the most active and closely watched volcanoes in the world.
Formed a million years ago, at 3324 m (10,900 ft), Etna is the highest volcano in Europe. Termed a 'stratovolcano' because of its layers of ash, pumicee, and lava flows, products of explosive and effusive (slow) eruptions, respectively. The particular chemical composition and the high temperature (> 1100°C), make the lava quite fluid and able to travel long distances, threatening the nearby towns encircling the volcano. Particularly feared is the formation of a lava tube, where the lava flows through a natural "tunnel" of solidified lava.
In the A.D. 1669 eruption, for example, lava kissed the city of Catania, destroying part of its fortified walls. This eruptive phase (one of the most destructive) was heralded by continuous earthquakes in the south-east flank. In volcanic areas, in fact, there is a direct connection between volcanic and seismic events, the latter being induced by the ascent of magma and gases.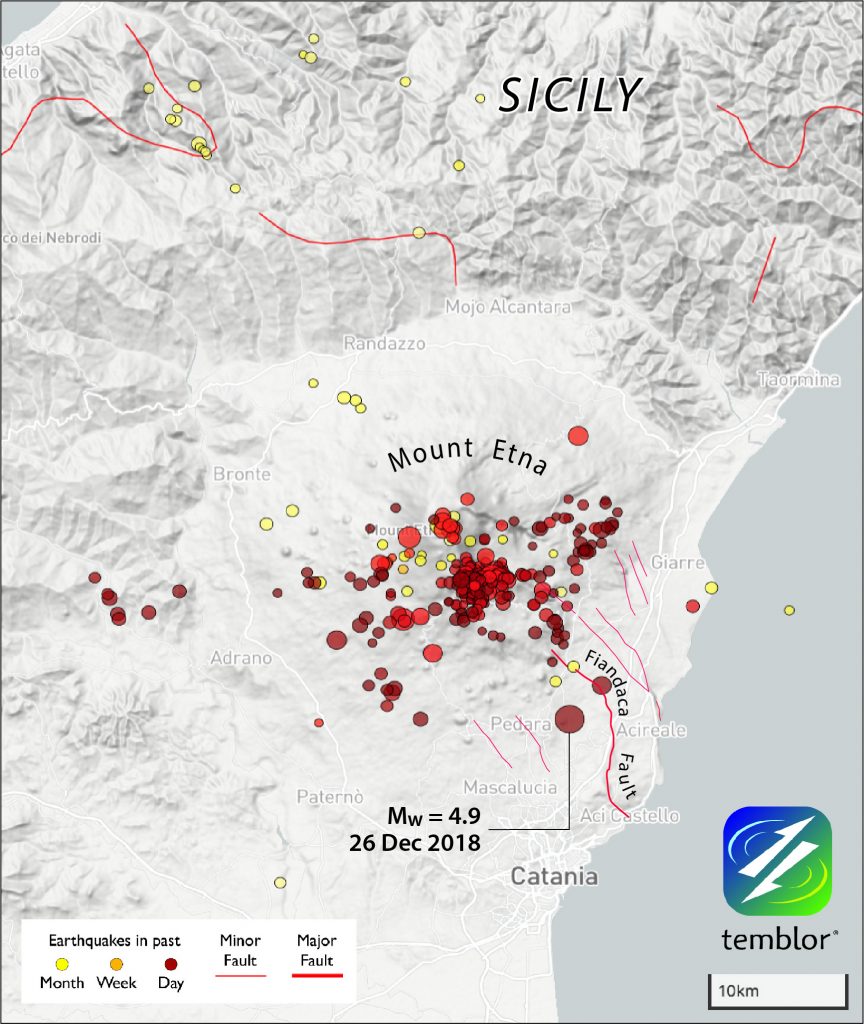 A new fracture opened on the Etna eastern flank
For the 950,000 inhabitants of the Etna area, this was a difficult Christmas, and, in all likelihood, the coming days won't be different. As explained by the INGV (Istituto Nazionale di Geofisica e Vulcanologia) experts, the intrusion of magma into the south-eastern flank of the volcano has led to the formation of a new fracture, about 2 km long.
The magma intrusion caused significant ground deformation (detected by GPS sensors) and redistribution of stress on the neighboring faults – specifically, the Fiandaca fault, part of the Timpe system of extensional faults. The result was an intense seismic sequence, which continues. Four shocks with local magnitude greater than 4 were recorded, all extremely shallow at about 1-2 km depth. The first two struck at Zafferana Etnea, 46 km from Catania (ML=4 and ML=4.3), the third at Ragalna, 28 km from Catania (ML=4). The last shock thus far took place late on December 26, in Viagrande, 15 km from Catania (Mw=4.9). Several people have been injured and some houses near Zafferana Etnea were damaged. At the time of writing, there are 600 displaced people.
A surprise?
In a word, no. According to the available seismic hazard models, the eastern flank of Etna has a high probability of damaging events in the short term (5, 10, 20 years). This is due to the Timpe normal fault system, which is very active, both in terms of the number of events and their intensity (with an average of one highly damaging event every 20 years). The current seismic events, likely linked to the activation of the Fiandaca Fault, one of the main faults of the Timpe system, are therefore not a surprise. On the contrary, it confirms what is suggested by the available seismic hazard models.
An unstable, sliding, flank
The southeastern flank of Etna is slowly sliding into the sea as reported by several studies. The most recent one, published on Science Advances (Urlaub et al., 2018), has confirmed this hypothesis based on evidence from seafloor geodetic data. Some scientists claim that this movement, which occurs at a rate of cm/year, is mainly driven by gravity; others claim that the magma intrusion triggers it. Finally, and we agree more with this last interpretation, some scientists believe that the sliding flank is the result of a combination of both gravity and magma intrusion. In this perspective, a large eruption could temporarily enhance the gravity-driven flank sliding process. As we gain new insights about the dynamic processes affecting the instability of Etna edifice, the seismic hazard models are improved accordingly.
An omen?
In the small town of Pennisi, the statue of Saint Emidio, protector from earthquakes, collapsed. The news, spread on social media, has been interpreted by many as a bad omen. Events such as volcanic eruptions and earthquakes understandably unearth our ancestral fears. However, we should strive to deal with such natural phenomena with rationality and lucidity, knowing the risks to which our area is subject and protecting our homes appropriately.
References
INGV
Azzaro, R., Barbano, M. S., D'Amico, S., Tuvè, T., Albarello, D., & D'Amico, V. (2008). First studies of probabilistic seismic hazard assessment in the volcanic region of Mt. Etna (southern Italy) by means of macroseismic intensities. Bollettino di Geofisica Teorica e Applicata, 49(1), 77-91.
Azzaro, R., D'Amico, S., Peruzza, L., & Tuvè, T. (2013). Probabilistic seismic hazard at Mt. Etna (Italy): the contribution of local fault activity in mid-term assessment. Journal of volcanology and geothermal research, 251, 158-169.
Azzaro, R., Bonforte, A., Branca, S., & Guglielmino, F. (2013). Geometry and kinematics of the fault systems controlling the unstable flank of Etna volcano (Sicily). Journal of volcanology and geothermal research, 251, 5-15.
Borgia, A., Ferrari, L., & Pasquarè, G. (1992). Importance of gravitational spreading in the tectonic and volcanic evolution of Mount Etna. Nature, 357(6375), 231.
Giudice, E. L., & Rasà, R. (1992). Very shallow earthquakes and brittle deformation in active volcanic areas: The Eatnean region as an example. Tectonophysics, 202(2-4), 257-268.
Lundgren, P., Casu, F., Manzo, M., Pepe, A., Berardino, P., Sansosti, E., & Lanari, R. (2004). Gravity and magma induced spreading of Mount Etna volcano revealed by satellite radar interferometry. Geophysical Research Letters, 31(4).
Rasà, R., Azzaro, R., & Leonardi, O. (1996). Aseismic creep on faults and flank instability at Mount Etna volcano, Sicily. Geological Society, London, Special Publications, 110(1), 179-192.
Rust, D., & Neri, M. (1996). The boundaries of large-scale collapse on the flanks of Mount Etna, Sicily. Geological Society, London, Special Publications, 110(1), 193-208.
Urlaub, M., Petersen, F., Gross, F., Bonforte, A., Puglisi, G., Guglielmino, F., … & Kopp, H. (2018). Gravitational collapse of Mount Etna's southeastern flank. Science advances, 4(10), eaat9700.