In a series of public education programs and workshops, researchers in Canada are engaging with communities and other stakeholders to develop an earthquake early warning system.

By Meghomita Das, McGill University (@meghomita)

Citation: Das, M., 2021, Engaging communities with Canada's earthquake early warning system, Temblor, http://doi.org/10.32858/temblor.224

For residents of British Columbia, along the west coast of Canada, seeing a road sign that says, 'Entering Tsunami Hazard Zone' is a common occurrence. The sign reminds travelers that British Columbia and much of western North America is earthquake country.
Here, the Juan de Fuca tectonic plate is diving under the North American plate. This boundary, called the Cascadia Subduction Zone, extending from British Columbia down to northern California, has the potential to generate very large magnitude earthquakes and tsunamis and is currently primed for the next one.
Ensuring Canadians are alerted of potentially harmful earthquakes in the region falls to Natural Resources Canada (NRCan), a federal organization tasked with developing policies and programs to utilize the country's natural resources. Wednesday, at the American Geophysical Union Annual Meeting, a team of researchers at NRCan provided an update on Canada's planned earthquake early warning system and discussed their efforts to engage the public.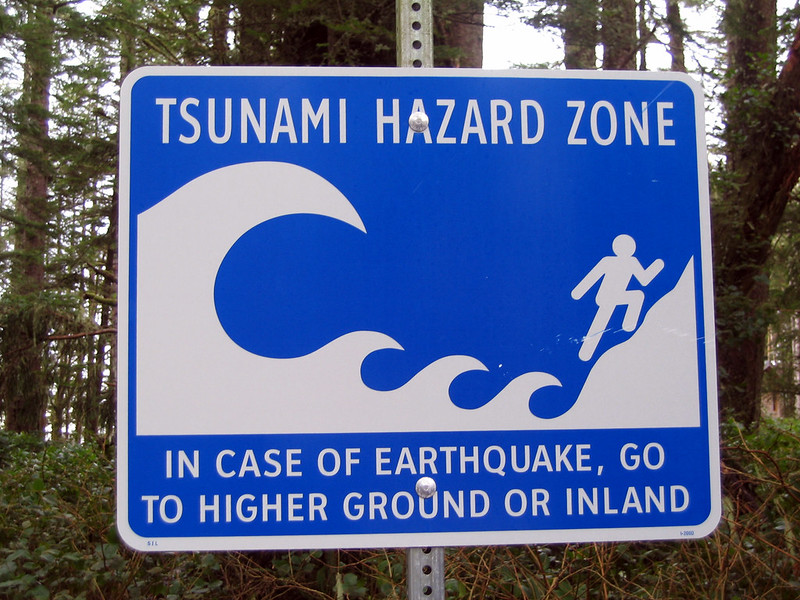 Earthquake early warning systems can alert the public, emergency organizations and critical infrastructure operators of impending shaking. The additional seconds of advanced warning are enough for individuals to take appropriate actions and automated systems to protect sensitive equipment, thus reducing the devastating effects of earthquakes on lives and property. In large countries like Canada with two widely separated seismically active areas, implementing such a system is challenging but doable. NRCan is currently deploying such a system.

Canadian seismicity
Canada is a vast country with diverse tectonic settings. It has two major areas at moderate to high seismic risk: British Columbia and eastern Ontario-southern Quebec. Relevant to the former, the Cascadia Subduction Zone has generated a magnitude-9.0 earthquake roughly every 300-800 years, according to NRCan.
Potential future seismicity in eastern Ontario and southern Quebec is more enigmatic. Even though these areas do not lie on an active plate boundary, the St Lawrence Seaway, which passes through these regions, has hosted several moderate to high magnitude earthquakes over the last 40 years. Canada's largest cities are in or close to these high-hazard areas.

A network of sensors to detect quakes
The Canadian earthquake early warning system will be implemented over the next three years. Three hundred land-based sensors will be deployed throughout British Columbia, Ontario, and Quebec to detect ground motions and quickly relay data, says Henry Seywerd, the project leader and a co-author of this study. In the future, NRCan plans to expand this network to northern and Atlantic Canada.
The system will use the same software as the U.S. West Coast's ShakeAlert early warning system to ensure alert detection along the U.S.-Canada border. Alerts will be sent through the country's National Public Alerting System. Additionally, facilities can be programed to open firehall and hospital emergency doors, halt trains and even back up important data servers when an alert is issued.
"We want the people to understand that this system does not have predictive powers. It can only give us shaking alerts after an earthquake has been detected and encourage us to take the necessary actions," says Alison Bird, the liaison and outreach officer at NRCan and a co-author of this study, who is handling the public engagement strategies for the project.
Several workshops with critical infrastructure operators are planned to ensure that they are aware of the system's benefits, Bird says. She will be working with Public Safety Canada, who operates the National Public Alerting System, along with provincial emergency management organizations to develop materials and activities to inform the public about the capabilities of this system, the need to take immediate actions like drop, cover and hold on and the steps to take to prepare for earthquakes at home, school and work.

A system that works for the people
Coastal First Nations communities of British Columbia have long documented historical earthquakes and their devastating effects as part of their oral traditions. These communities will be stakeholders in the implementation of the system and help NRCan to expand the network of stations on their lands, says Bird. Other partners include Emergency Management BC, The Great British Columbia ShakeOut (Grande Secousse) and Canadian Red Cross through the Inclusive Resilience project.

Challenges encountered
"Designing an earthquake early warning system is a complicated process. We want the main users to know that it is a warning system, but not a prediction system," says Gabriel Lotto, ShakeAlert User Engagement Facilitator for the Pacific Northwest Seismic Network (PNSN), who was not associated with this study.
One major challenge to deploying the system is increasing the awareness of earthquakes among the public and allowing them to interact with such an alerting system. This issue is echoed by Lotto for ShakeAlert. Since Eastern Canada generally experiences smaller magnitude earthquakes, residents may not be aware of their risk. One challenge the group at NRCan faces is ensuring those individuals know what to do if they receive an alert.
Canada's population is unevenly distributed near the east and west coasts and urban centers are located far from one another. The country, therefore, has large swaths where accessibility and communication are somewhat limited. The team plans to ensure the alerts are available across multiple platforms, like radio, television, internet and cellular networks, so that residents in these remote areas can get the alerts in time.

Implementing the warning system
Scientists are currently installing the seismic sensors, and the team hopes to announce the first official station very soon. Over the next couple of years, the system will be tested and fine-tuned before it is launched for the public. As the system is implemented, the team will continue their public engagement efforts and raise awareness about Canada's seismic history and its new early warning system, Bird says.

Further Reading
Bird, A. L., Seywerd, H., Crane, S., Adams, J., & McCormack, D. A. (2021). Outreach and Engagement to ensure the success of an Earthquake Early Warning System in Canada. American Geophysical Union Fall Meeting 2021. https://agu.confex.com/agu/fm21/meetingapp.cgi/Paper/974633
Natural Resources Canada. (2021). Earthquakes in Eastern Canada. https://www.earthquakescanada.nrcan.gc.ca/zones/eastcan-en.php
Seywerd, H., McCormack, D. A., McKee, L., Bird, A. L., Nykolaishen, L., & Crane, S. (2021). Current status of the Canadian Earthquake Early Warning Program. American Geophysical Union Fall Meeting 2021. https://agu.confex.com/agu/fm21/meetingapp.cgi/Paper/950545