A magnitude-6.4 earthquake rattled Central Croatia on Tuesday, Dec. 29. Reports of significant damage highlight vulnerable construction in the region.

By: Nenad Bijelić, Ph.D., EPFL (École Polytechnique Fédérale de Lausanne), Svetlana Brzev, Ph.D., University of British Columbia, Damir Lazarević, Ph.D., University of Zagreb.

Citation: Bijelić, N., Brzev, S., Lazarević, D., 2020, Croatian earthquake causes significant damage, Temblor, http://doi.org/10.32858/temblor.148

Editor's note: Article updated Dec. 30

Around noon on Dec. 29, 2020, a magnitude-6.4 earthquake occurred near Petrinja, Croatia. The epicenter is located 29 miles (47 kilometers) southeast of the capital, Zagreb. Several foreshocks struck the area on the preceding day, the largest being a magnitude-5.0. At the time of writing, the earthquake has claimed seven lives and caused widespread destruction in Petrinja and neighboring towns. The ongoing COVID-19 pandemic presents challenges for emergency response as well as for evacuation of affected population.
The earthquake likely resulted from slip on a shallow strike-slip fault, according to data from the U.S. Geological survey (USGS). The agency's focal mechanism solution — a graphical representation of the direction of slip in an earthquake — indicates that rupture occurred on a nearly vertical fault oriented either to the southeast or southwest.

Earthquakes are not uncommon here
This earthquake does not have a direct link to a magnitude-5.3 earthquake that struck Zagreb in March of this year, said Krešmir Kuk, a representative of the Croatian Seismological Survey, in an interview for HRT (Croatian Radio Television). The agency estimates the earthquake was a magnitude-6.2, which is lower than other estimates. These earthquakes are both the result of compression in the boundary region where the Adriatic tectonic micro-plate is being pushed underneath the Eurasian Plate, Ivica Sović, also of the Croatian Seismological Survey, told HRT. Following the Petrinja earthquake, there seems to be no increased activity in the Medvednica fault zone, the complex of faults that hosted the Zagreb earthquake, he said.

Vulnerable buildings damaged
The central part of Croatia is far less densely populated than Zagreb — Petrinja has a population of about twenty-four thousand — but that doesn't mean that people there aren't at risk in an earthquake. The building stock in this region is particularly vulnerable as it primarily consists of unreinforced masonry structures. Moreover, the region was severely affected by war in the early 1990s and neither its economy nor infrastructure have fully recovered.
Destruction in Petrinja is widespread. Additionally, a major meat producing factory stopped production. Nearby, the town of Sisak also sustained significant damage. Sisak's main hospital was rendered unusable and patients were evacuated to Zagreb. Reports of damage reach as far as the northernmost part of Croatia, 60 miles (100 kilometers) away, according to the European-Mediterranean Seismological Centre.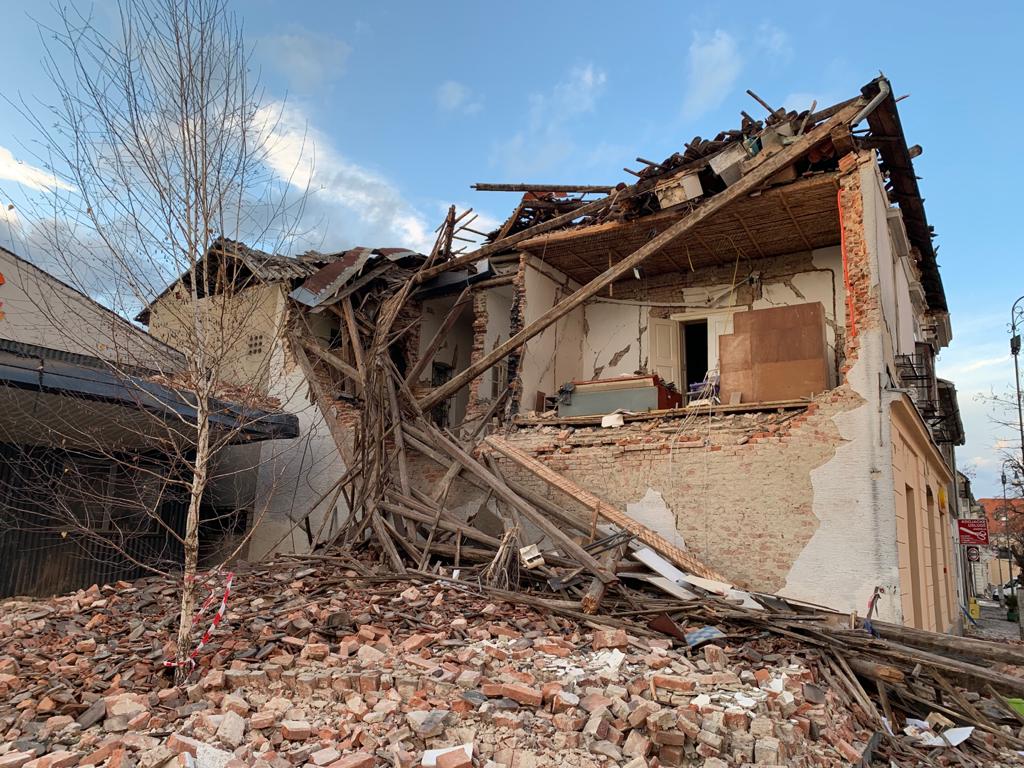 In Zagreb, some 25 miles (40 kilometers) north of Petrinja, government buildings were damaged. Additionally, a children's hospital was evacuated and the main maternity clinic in the city, which was damaged after the March earthquake, suffered additional damage. Temporarily, large parts of Zagreb had no electricity in the aftermath of the earthquake and frequent shortages are still ongoing. There are reports of damage to chimneys in the northernmost part of Croatia and a nuclear power plant, Krško, located in neighboring Republic of Slovenia, temporarily ceased operation as part of its standard operating procedure.

Surveying damage
Building on the experience from the Zagreb earthquake, volunteers began a post-earthquake building evaluation effort to catalog and rank damage. The assessment will be used to direct resources and aid during reconstruction. The evaluation had, in fact, begun as a result of the large foreshocks from the previous day, and some of the volunteers were temporarily trapped in damaged buildings during the magnitude-6.4 mainshock. The effort is a collaboration between the Faculty of Civil Engineering Zagreb, the Croatian Chamber of Civil Engineers, the City office for Emergency Management and the Civil Protection Directorate.

Although the assessment of losses and damage is still ongoing, it is clear that this earthquake was truly a disaster with far reaching consequences. Given that similar earthquakes might occur in other European cities at risk of moderate seismicity, the experiences from this event have a bearing on seismic resiliency of a significant part of Europe as well as for preservation of our rich cultural heritage. Additionally, because this earthquake struck during the COVID-19 pandemic, the event will provide invaluable insights into multi-hazard risk assessments and emergency management.

*Update from Damir Lazarević at approximately 10 pm local time on Dec. 30: The situation in Petrinja, Glina, parts of Sisak and surrounding villages is extremely difficult. Aftershocks are ongoing. The risk of collapse of highly damaged buildings is high and cleanup of rubble and debris with heavy machinery is still in progress. Daylight hours are limited and some activities have to be done during the night, which brings additional challenges.
The buildings that were hit the hardest in the March earthquake in Zagreb suffered additional damage. Zagreb's Gothic-style Cathedral's two 355-foot (108-meter) towers are in danger of collapse after early morning magnitude-4.7 and magnitude-4.1 aftershocks. Shaking caused multiple landslides that damaged bridges and roads. These structures were quickly made operational.
Cleanup throughout Petrinja and surrounding regions will likely continue for a few more days as crews are equipped with additional machinery and trucks. Firefighters and military personnel have been extremely helpful in rescue and cleanup efforts.
Families and individuals who lost their homes now have temporary shelter. Additionally, medical patients from affected areas have been transferred to other cities.
A headquarters for coordination of experienced structural engineers has been established today. Colleagues from the Faculty of Civil Engineering are coordinating controlled demolitions of unrepairable structures. After initial cleanup, a larger group of experienced engineers, including those from departments of Civil Engineering in Split, Rijeka, Osijek and Sarajevo, will likely begin to systematically assess the impacted area.